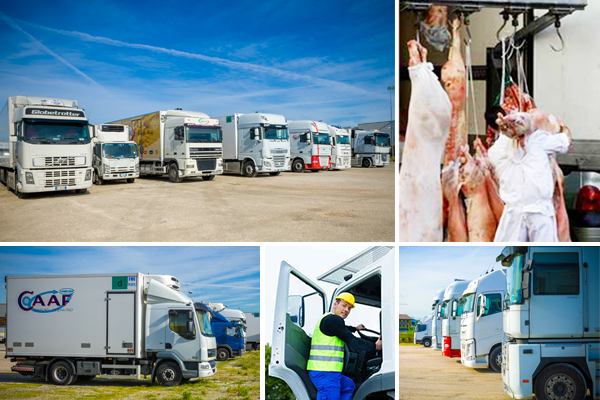 Our fleet
We have a large fleet of refrigerated lorries and vehicles in the following categories:
two and three-axle motor vehicles
articulated lorries
transporters with a capacity of 33-34 euro pallets
The equipment of our vehicles is functional to the transport requirements of refrigerated goods that belong to the various sectors that we work with (transport of fish or meat, transport of flowers, transport of fresh fruit and vegetables etc.) and can include the following:
hydraulic tailgates to simplify loading/unloading operations,
hooks to transport hung meat,
internal movable walls to transport goods at two different temperatures,
movable mechanical arm
Our fleet of vehicles is constantly being renewed and is in line with the most stringent environmental community regulations and with European safety standards.
International and national transport at controlled temperatures, transport of goods on behalf of third parties
We employ a fleet of refrigerated vehicles of the latest generation that can handle products according to ATP regulations, on the main national and European markets, processing job orders to many destinations quickly. We take special care of the various phases of loading and unloading of the merchandise and of storage in cold rooms, operating exclusively with qualified personnel.
We can guarantee the traceability of every refrigerated shipment. The transport of merchandise is covered both by mandatory insurance based on current regulations and by the policy that covers the transport of merchandise "on behalf of third parties".